A Game of Adjustments for Brandon Drury (and Everyone Else)
I've been excited about Brandon Drury for quite some time. When Justin Upton was sent to what would become a receptacle for useful Diamondbacks (also commonly referred to as "the Braves"), Randall Delgado was sort of "the big get" in return. While rumors swirled that Kevin Towers had his choice of Delgado or Julio Teheran, it was Delgado that ended up in Sedona Red. Now in his second season as a full time reliever while Teheran continues to be a productive big league starter, the focus of that trade that seems so long ago centers on Drury's acclimation to the major leagues. As it turns out, that acclimation is still a work in progress.
I pointed out not so long ago that major league pitchers had gone away from throwing Brandon Drury fastballs. As is the case with many young hitters, Drury received plenty of heaters early in his big league career as pitchers challenged him to past The Fastball Test. Projecting as an average or better hitter at the major league level, he passed that first exam and moved on to the next one: dealing with breaking balls. As you can see, Drury's diet of fastballs has given way to breaking pitches over the course of the season: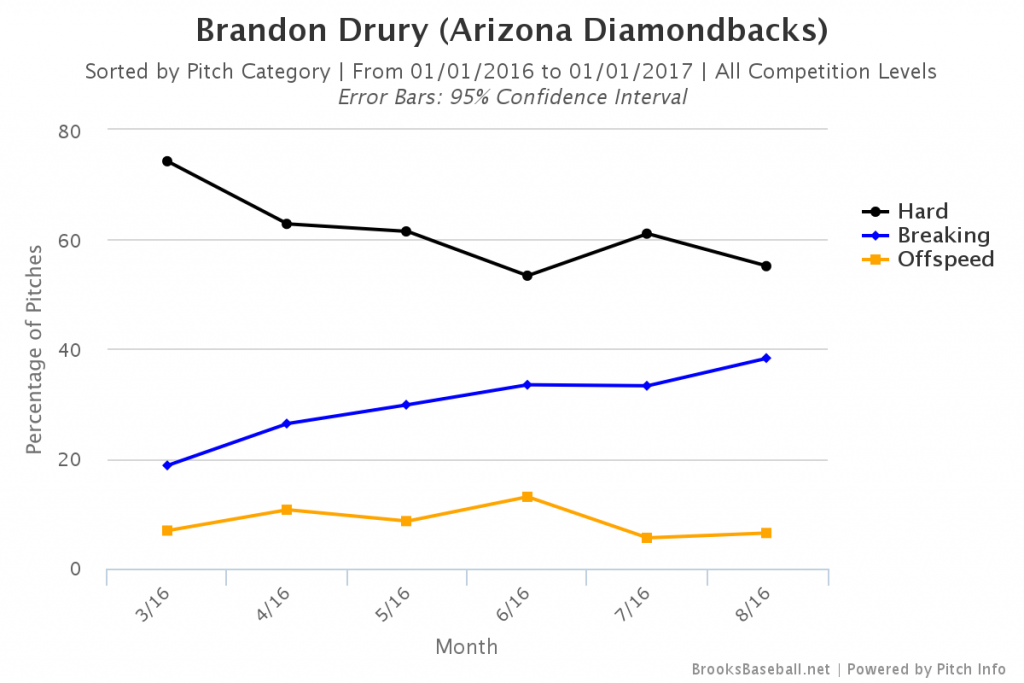 With all of those breaking pitches came a response from the young hitter. He began pulling balls with a much higher frequency, thanks in part to the slower velocities of the sliders and curves. With a fastball-heavy approach, Drury began hitting breaking balls to the left side frequently, something that works against a player designed to spray line drives from gap-to-gap. Without Tomas' raw power of Goldschmidt's ability to barrel-up anything, anywhere, anytime, Drury was limited to rolling over pitches to short or flying out to left far too frequently. This zapped his production and ultimately led to a brief stint in Reno.
The change in how pitchers attacked him posed another problem, too. Brandon Drury began finding himself behind in the count more and more often as he struggled to handle the new offerings. It seemed as if time and again, he was behind in the count early, often relying on trying to hit with two strikes – a skill that eludes many big league hitters, even some productive ones. He was often out in front of breaking balls and behind heaters, fouling off pitches and being forced to hit in unfavorable situations. Failure is part of the game and Drury has had to stomach a large dose of that in attempting to succeed.
And make no mistake, he's attempting to succeed. As he's found himself almost perpetually behind in the count, Brandon Drury has adjusted his approach, attempting to find a strategy that will allow him to become a better two-strike hitter. When we think of strong two-strike approaches, we think of a few things – namely an ability to take pitches off the plate (often low and away for right-handed hitters facing right-handed pitchers) and the ability to shorten up and go to the opposite field. That second part in particular has become a strategy for Drury, letting the ball travel and working either up the middle or to right field. Take a look at his first and second half spray charters to get a feel for how much his batted ball profile has shifted.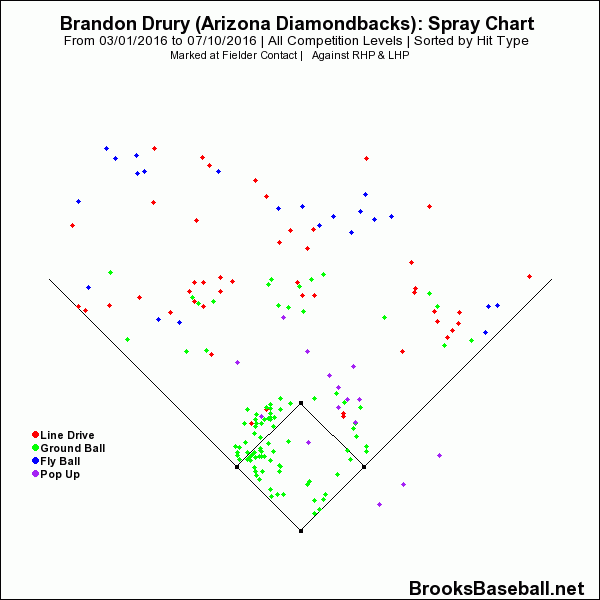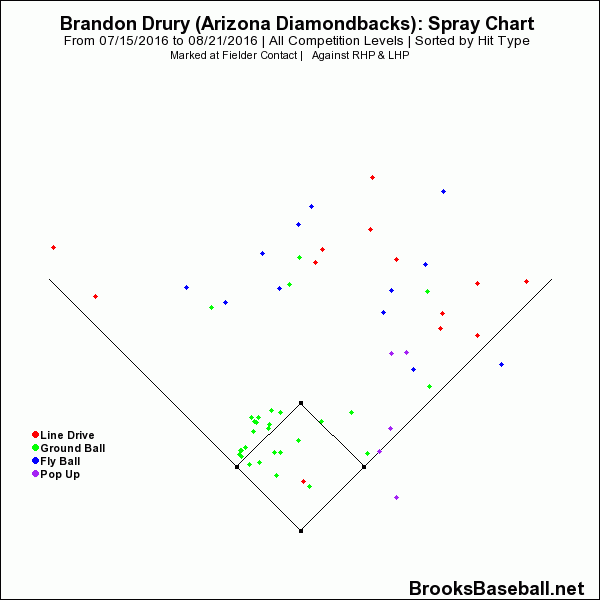 While perhaps not overwhelming, thanks in part to the "second half" being a small sample, there is shift here and it's one that we can see, both when he stands in the box and when looking at the larger picture. Just at look at how the clusters of batted balls have moved from left to right. Clearly, what Drury's trying to do at the plate has changed.
Now, just because he's attempted to change his approach and improve his ability to hit productively doesn't mean the results have improved by a wide margin. Unfortunately, there's not a large of increase in how well he's hit when looking at outcomes because, well, baseball is hard. Really hard. But even if Drury hasn't improved drastically as the season's worn on doesn't mean he won't. To make any kind of strides at all, he'd first need to show a willingness to adapt. We've seen that already, and coupled with a work ethic that's drawn steady praise, we should remain optimistic. While he hasn't mastered the art of hitting just yet, there's undoubtable growth taking place in our presence.
Through it all, you kind of can't help but keep in mind how difficult succeeding at the highest level of baseball really is, and Brandon Drury is microcosm of that. When even the most talented athletes often fail, it's often the ability to adapt that separates the stars from those merely holding a roster spot. Hitters get attacked with heaters, and if they can handle them, they get far fewer fastballs. They'll start getting more breaking and/or offspeed pitches, ones that are notoriously difficult to handle, and if those are mastered, pitchers will take them away in no time. Nearly every hitter has a hole or two, and pitchers will exploit them almost as immediately as they are revealed. In essence, if you can do something well, expect the opponent to take it away. That's why they call it a "game," I guess.
Brandon Drury is finding his way in that game right before our eyes, and whether he ultimately succeeds or not is unclear. What we can take solace in for now is that he's willing to adapt and adjust. Should he figure out a strategy that pays consistent dividends for him, it won't last long before pitchers switch it up again and the whole cycle repeats. The only constant is change, it seems, and while that has to be frustrating for players, it makes baseball the sport we all love.