If you've come to Inside the 'Zona seeking to feel better about the Diamondbacks' blockbuster trade for Shelby Miller, you may be disappointed. Then again, you may be thrilled. I'm not sure I can accurately project your feelings. What I will say, to begin, is this is exactly what we expected when we started talking about TCW (The Contention Window). The team is in win-now mode and there was going to have to be a trade or two, ones that would probably look bad from a value standpoint, to push it over the top and firmly into contender status. To be clear, this is not just to be contender for a Wild Card spot. Make no mistake, the D-backs want the NL West and the Dodgers and Giants have officially been put on notice.
So let's start with the basics. Miller was acquired from Atlanta for the much-beloved Ender Inciarte, plus Dansby Swanson and Aaron Blair. There's no need to pretend – that's clearly a steep price. Inciarte is one of the best corner outfielders in the game (a sort of Jason Heyward-lite, if you will). He's a 2-3 win player right now and he's under team control for four more seasons. With Inciarte nearly lost to the Phillies as a Rule 5 pick, one can be pretty damn impressed that the organization was able to flip him for the player that completes their rotation at a critical juncture. Credit where credit's due, I guess. Swanson was the number one overall pick in a weak draft class last June and we surely haven't seen enough to project that he's any better or worse than when he was when drafted. The consensus is that he's a nice player, but probably not a franchise altering one. Aaron Blair has flown through the system, and even though there's been clamoring to see him in the rotation in 2016, he's still mostly likely a #4 starter who's a Wade Miley-type if he works out as expected. That's a nice player, but again, not the kind you build your franchise around.
And frankly, Swanson and Blair just didn't matter all that much at this juncture for this team. They couldn't afford to give half a season to Blair to see if he could handle the majors. Dansby Swanson wasn't going to be around until 2017 at the earliest. They were viewed and treated as spare parts. You're more than welcome to take exception to that and for good reason. Both are quality players long-term, both have significant value. But where Arizona is right now, they just weren't vital. You can ask yourself if you'd rather have Aaron Blair as your Opening Day #5 or Shelby Miller as your Opening Day #2/3 and the answer should be pretty obvious. Losing Swanson hurts the system, but by the time that he's matured, the golden hour will have passed. I loved me some Ender Inciarte, but there are other capable outfielders to fill his shoes with Yasmany Tomas and Socrates Brito as obvious answers with Peter O'Brien still lurking. I'll hope for a breakout from one of the first two and pray that the team doesn't have to resort to the third.
There's no use in saving this until the end, so I'll just say it. When you give Zack Greinke $206 million dollars, this is a move you need to make. Period. Are the Diamondbacks taking the short side of the deal? Probably. But does this help their chances in playing October baseball each of the next few seasons? Without a doubt. They could not go into 2016 incomplete. They've set their course and they needed to stick to it. The price is a heavy one, but one that couldn't be avoided. From a payroll perspective, they're still in great shape and they were able to keep young stars like A.J. Pollock, David Peralta, Patrick Corbin and Jake Lamb in the fold, plus still have Braden Shipley and Brandon Drury to work into the mix in due time. They didn't fire all of their bullets here, let's be clear, but they fired some and they'll hope that they've hit the target.
When Ryan dove into what kind of production was needed from the rotation, he settled on something like 15 wins. Heading into the offseason, they were somewhere around nine. Nine is not 15 and everyone knew it (see: number line). By adding Greinke they put themselves at something like 12.5. By adding Miller, they sit somewhere between 13.5-14.5 wins. That's pretty darn close to 15 (see: number line). Is it the strongest rotation in baseball? No, it's not, but it's a lot stronger than it was. And instead of wondering who was going to lead the staff into Opening Day, now the question becomes who gets the last spot in the rotation? That's a hell of a lot better question to be asking. The rotation should look something like this: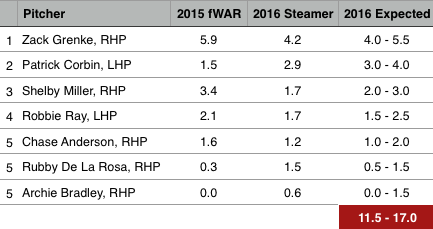 In a worst-case scenario, we have a rotation that looks to be two wins better than last year. In a best-case scenario, we have a rotation that looks like one of the very best in baseball. If you're like me, you believe the answer lies somewhere in the middle. That middle is, you guessed it, about 14-14.5 wins, which is where it needed to be. Could Archie Bradley take a big leap forward with is slider? Maybe. Can Rubby De La Rosa figure out a way to get lefties out? I'm not sure. Can Chase Anderson give you back end innings? Yes he can. If I had to name a fifth starter right now, I'd lean towards Anderson at the moment with Bradley a close second. As I've said before, De La Rosa in the bullpen makes a ton of sense.
If you looked critically at that chart above, which you probably did as an Inside the 'Zona reader, you might have noticed something peculiar. Shelby Miller is only forecast for 1.7 wins by Steamer in 2016. Projections systems have their warts, yes, but even with that factored in, 1.7 seems low. The D-backs surely paid for a 3.5-win pitcher, not a guy who's the equivalent of MLB average. So what gives?
Miller's value in 2015 was largely aided by not yielding home runs. Moving to a park like Chase, that can only viewed as a good thing, so long as you believe that home run rate for pitchers is sustainable. For guys who are non-FIP beaters, it more or less isn't. There are very few guys who can outrun the long ball on a yearly basis. Brad Ziegler can. So can Josh Collmenter. They're on opposite ends of the batted-ball spectrum, but they're so extreme in one way or another that they have avoided being taken deep at alarming rates. Can Shelby Miller be one of those guys or did the Diamondbacks just pay for a one-year mirage?
Here are Miller's ground ball and home run/fly ball rates for each of his three full big league seasons: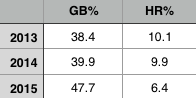 Something clearly changed in 2015. His ground ball rate went way up (good) and the dingers subsided (also good). But that doesn't explain why these things happened. A quick dig into PITCHf/x reveals the details. In 2013, Miller used his four seam fastball 73.6% of the time, which is a ton. In 2014, he dropped the usage of that pitch to 61.6% and used a new-found two-seamer 10.3% of the time, plus threw a handful of cutters. In 2015, the season we're most concerned about, Miller dropped the four seam heater to 32.7%, used the two seamer 33.8% of the time and went with the cutter 20.7%. More two seamers, more cutters, fewer straight fastballs. The strikeouts have dropped, but so have the home runs while the ground balls have increased.
The 2016 Steamer projections predict who Miller is based on 2015, but they take 2014 and 2013 into account, too. But this is a different pitcher now. This is not the Shelby Miller who came up with the Cardinals throwing a ton of four seamers. This is a Shelby Miller who has learned to sink and cut the fastball to be more productive. I'm buying more than 1.7 wins if he remains healthy, even taking Chase Field into account. The infield defense will do him a lot of favors here, more so than the desert air will harm him.
Parting with Inciarte is hard. Losing Swanson and Blair is difficult, even if they were overvalued by most. Shelby Miller's value has jumped around, but there's reason to think the most recent version is here to stay. Who fills the number five spot is a mystery, but one we'll gladly take. You have to do this if you're the Diamondbacks – you can't go half way. It's all in, right now, no matter what.
Welcome to winning.