Tyler Clippard Signing Means Higher 2016 Ceiling, Narrower Margin of Error
Early this morning, Nick Piecoro wrote at AZCentral.com that the D-backs and bullpen righty Tyler Clippard were making progress on a contract. This afternoon, Clippard and the D-backs ironed out a two-year pact that will pay Clippard a total of $12.25M. The D-backs had long been looking for a bullpen addition, and to that extent, this deal shouldn't be a surprise. It certainly looks like a change in philosophy, however, and while Clippard looks like an upgrade if he pitches well, anything less than that kind of performance could encumber the team in a way even more significant than the financial commitment.
Assuming the $4M signing bonus component of the deal is counted evenly between the two seasons, Clippard will be paid $6.1M in 2016 — which would make him the third- or fourth-largest payroll commitment for the D-backs this season, depending on whether you count the $6.5M owed to the Brewers in the Chase Anderson trade. That's a hefty bill for a team that hasn't paid a reliever that much in a season in a long time, and yet Clippard could well be worth it.
The Upside: Tyler Clippard Has Been Really Good
According to the "Dollars" metric at FanGraphs, Clippard has been worth just about $6.5M per season, on average, since pitching his first full year in 2009. And that may actually be way too unkind to Clippard, because it is based on the FanGraphs version of WAR — which is as unkind to Clippard as it is to his polar opposite, a man they call Z.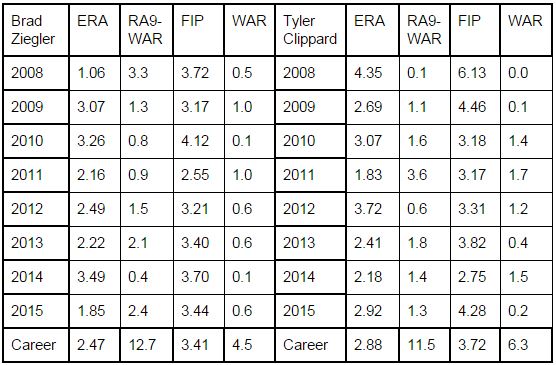 RA9-WAR is a lot like WAR, but it's counted as if the pitcher can and should get full credit for all of his success — or lack thereof. Pitchers can be in friendly or unfriendly parks, can have great and terrible defenses behind them, and can be asked to face tougher hitters more often than the average pitcher. That's the appeal of Fielding-Independent Pitching, and basing pitcher WAR on FIP — using strikeout, walk and home run rates, it guesses how well a pitcher should have done, based on those three things that pitchers appear to control all on their own. FIP is a quick-and-dirty way to see whether or not a pitcher has been lucky or unlucky, if you prefer to look at it that way, but what it seems to tell us about both Brad Ziegler and Tyler Clippard is that they've had a career's worth of great luck.
Both pitchers have career ERAs that come dangerously close to one full run below their FIP — and the whole idea is that they should be roughly the same, especially over a very large sample of innings. The trick here is that Ziegler and Clippard are both completely strange in a way that makes FIP much less equipped to evaluate them than to the vast majority of their relief peers.
For Ziegler, it's the insane ground ball rate that he's sustained over his whole career, which has made him worth so, so much more than his other peripheral stats would indicate. Counting only strikeouts among outs gives Ziegler no credit at all for his propensity for double plays, for one; counting all balls in play as equal also gives Ziegler no credit for the high number of weak ground balls that are surer outs than the average ground ball. His true value in his career has probably been much closer to his 12.7 RA9-WAR than his 4.5 WAR for those reasons; we can point to them, and over 528.2 career innings, we can trust them.
For Clippard, it's the exact opposite. There are actually quite a few pitchers in most years who have ground ball percentages so high that they start to have BABIP-lowering tendencies, with fewer balls in play turning into hits than expected. The number of pitchers with fly ball percentages high enough to do a similar thing is an even more exclusive club; in October, it looked to me like once a pitcher's fly ball percentage slipped below 47%, it stopped being helpful in terms of lowering BABIP. I was writing then, because it looked a lot like Silvino Bracho might be one such extreme fly ball pitcher. With Bracho moved to his proper place, I'm re-using a table from that piece here (again!), because recycling is a good habit, and because I don't want you to think I'm moving numbers around just to make this Clippard story more compelling.
As of that writing, those were the top eight qualified relievers in fly ball percentage last year (plus Bracho), and no one came close to Clippard's over-60% mark (he actually ended the year at 60.6%). Clippard had a huge dip in fly ball percentage in 2014, when he had a still-useful 49.4% FB% that still would have placed him on a similar leaderboard (7th) — and yet he's dominated that category over his whole career (56.6%), also crossing that 60% threshold in 2008 and 2011. For reference, only seven qualified relievers have finished a season with a FB% over 55% in the last four seasons, and Clippard has three of those seven seasons. Bizarro Ziegler indeed.
Clippard's batted ball profile goes a long way toward explaining his miniscule .232 career BABIP, all tallied without the cost of a high home run rate — his 1.04 career HR/9 is meaningfully above the 0.94 HR/9 that all relievers averaged last year, but not by much. With a fly ball percentage this high, Clippard reaps the rewards of high numbers of popups, and of better than expected success on fly balls (which tend to have higher launch angles than an average pitcher's fly balls).
Clippard could also perform an important function in the D-backs bullpen, given that Andrew Chafin is currently the only lefty with a set spot, that Matt Reynolds would probably need to show something in spring training in order to earn a spot, that Keith Hessler set himself on fire toward the end of 2015, and that Will Locante was designated for assignment to make room on the 40-man for Clippard: he gets lefties out.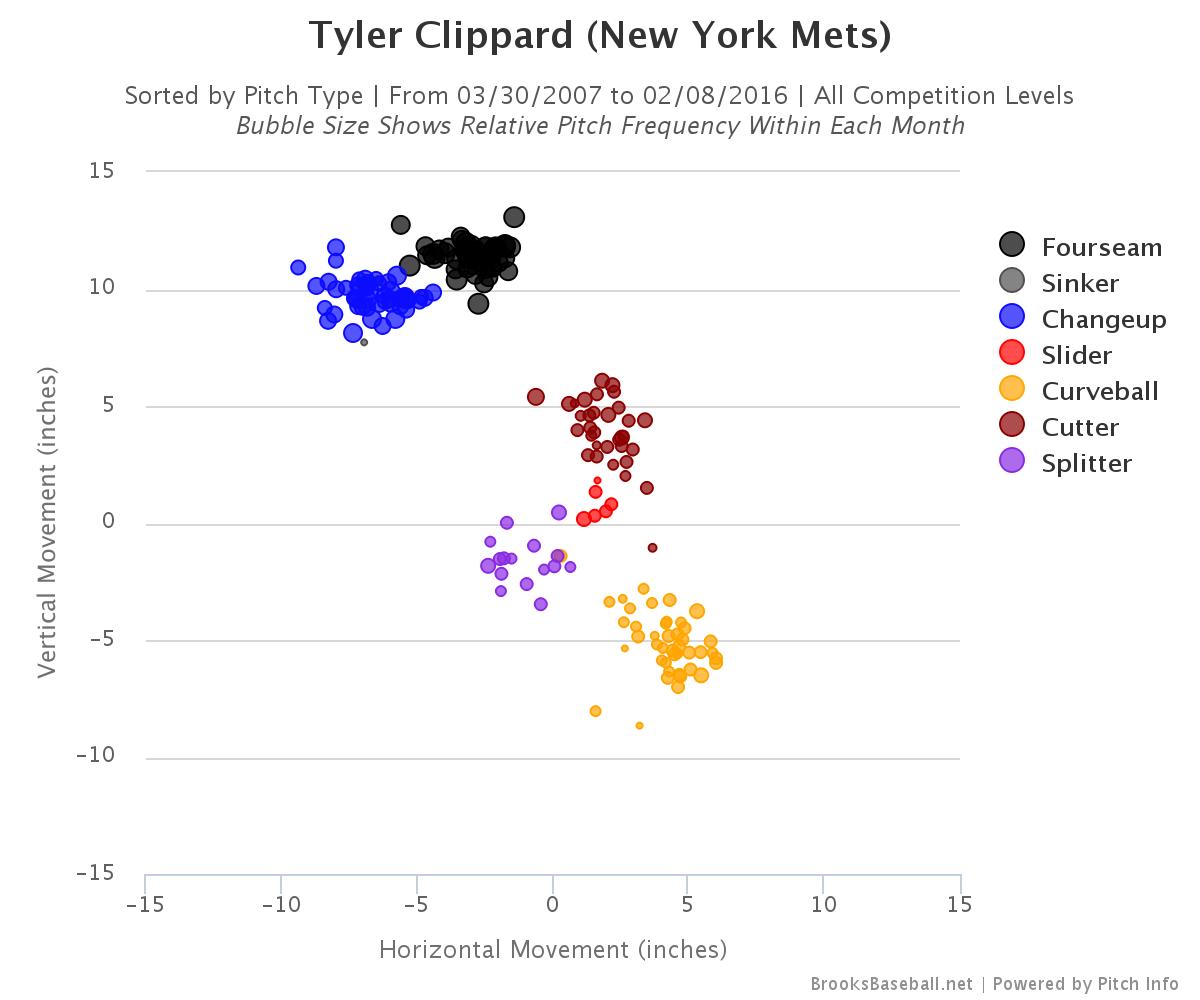 Over his career, Clippard has held lefties to a .179/.265/.307 slash line, a fair bit better than his still-excellent totals against RHH, .195/.287/.361. In 2015, the reverse platoon split was even more pronounced, .136/.231/.237 for LHH and .238/.333/.411 for RHH. Take a look at the movement chart above from Brooks Baseball. Remember when we found that the more horizontal a pitcher's pitches were in movement, the bigger his platoon split? Clippard has tremendous vertical movement on his fastballs, over 10 inches on both of them in all but one season. That tremendous vertical movement and the lack of horizontal movement on his other pitches does more than go a long way toward explaining his fly ball rate: it comports with the idea that he'd have a reverse platoon split. Even if Clippard's stuff were to wane, he could retain usefulness as a matchups man against left-handed hitters.
The Downside: It Could Be Bad
Two things should give us pause about using Clippard's past success and how he achieved it to get confidence in his likely 2016 (and 2017) performance. One big one: his stuff has waned. Clippard's first very good season was 2009, the first year in which his average fastball velocity climbed above 90 mph, by Brooks Baseball's reckoning (release speed). It climbed after that, topping out at 93.6 mph on average in 2012 — and since then, it's been in a very slow decline, descending each year to 92.4 mph last season, his lowest average velocity since 2009. Heavy usage may have taken a long-term toll on Clippard's arm, but it also looks like it's started to take a toll during the season: in each of the last three years, Clippard's velocity has fallen off in August. Last year, that meant averaging just below 92 mph toward the end of the year.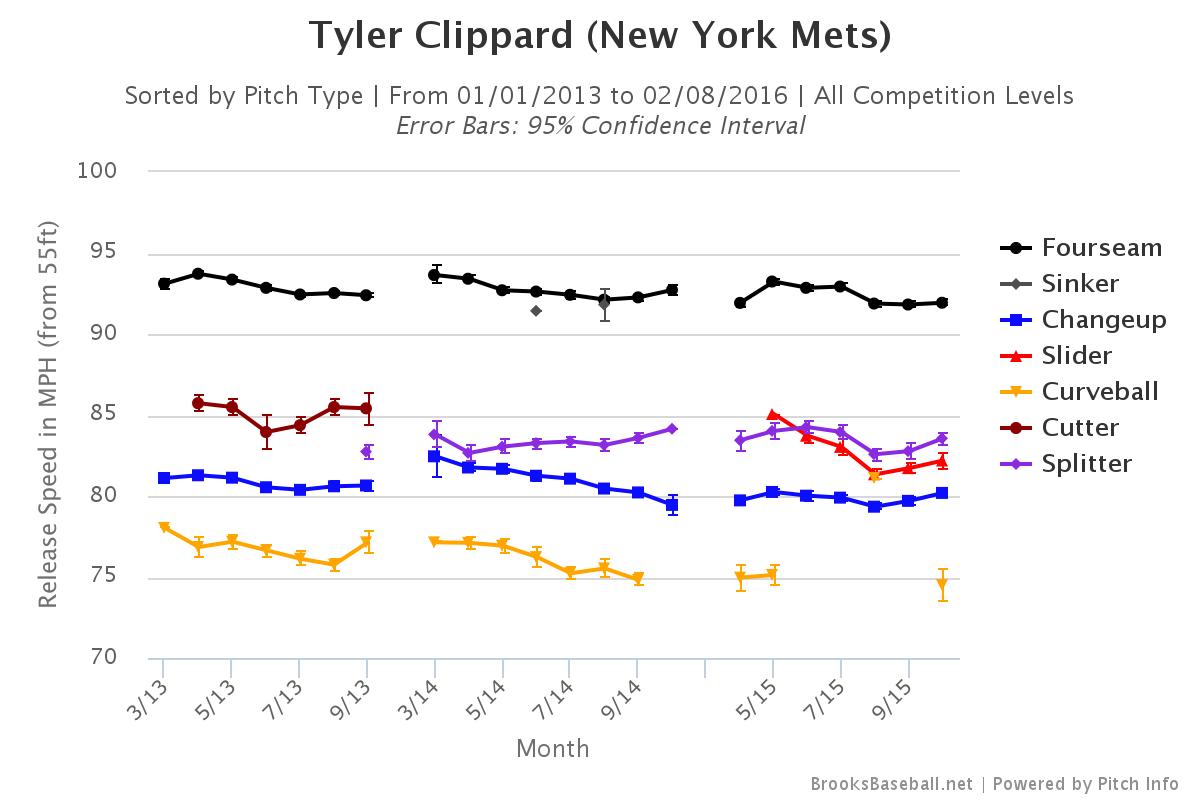 Clippard had a rough time of it in September and October, so we can't dismiss the velocity decline as trivial — and we're looking to the future, when it's unlikely that he'll throw harder. Still, it's the second thing that should give us the most pause, maybe: the fact that while Clippard is similar to Ziegler in consistently beating FIP with an extreme batted ball profile, it's not like he's doing it the same way.
Chase Field can be a tough place to pitch if you're prone to fly balls; Addison Reed was right on that 47% cusp of helpfulness with his 47.6% FB% in 2014, a season in which ERA estimator SIERA liked Reed's performance (2.68) a hell of a lot more than ERA (4.25) or FIP (4.03). That year, it was as if Reed was beating his FIP — but Chase Field beat him back, pushing his ERA back up above his FIP. By the way, Reed isn't necessarily a poster child for Clippard's likely success, if you're remembering last year — as with just about everyone else, the D-backs changed Reed's approach, spiking his GB% up (43.1% — is 34.0% for his career) and bringing his FB% well below that cusp of helpfulness (38.9% — now 43.7% for his career).
Or is he? Remembering Clippard's profile from the Bracho studies, my first thought on hearing the D-backs interest in Clippard was whether they would change him. Surely, they can't try to make MLB's most fly ball prone pitcher a ground ball pitcher, right? Yet they did do so with Reed, who was not a much better fit for that model. At this point, "ground balls" seems to answer just about every pitching question. So why did they want Clippard? Let's hope it's not because they think he has been good despite his fly ball percentage, and that they can make him better by pitching down. Pitching up with a super-rising fastball is dangerous to hitters; pitching down with a super-rising fastball could be disastrous for Clippard.
Either a velocity drain or a failure for his fly ball rate to translate could torpedo Clippard's effectiveness with the D-backs this season; the two can interact, as we have seen with Matt Cain when he's pitched more recently. Trying to pitch down could be terrible for Clippard, but a lost tick or two of velocity could help keep the ball from traveling over opponents' bats just enough.
The Worstside: If it's Bad, it's Really, Really Bad
A reliever's shelf life is not usually very long in this sport; the best pitchers tend to be starters, and most pitchers fight Father Time from the moment they arrive in the big leagues. Some guys are just different; they became relievers not because they just wouldn't be good as a starter, but because their profile translates especially well to the 'pen, where they can stick to their two best pitches, or enjoy a meaningful and important spike in velocity going in shorter stints, or make hay with an unusual arm angle only seeing every hitter once per game.
The latter guys — the Craig Kimbrels of the world — are expensive. Very expensive. They also tend to be the most reliable of top relief performers. It all adds up to one thing: the very best possible bullpens might be the most expensive bullpens. Nothing too controversial there. The very worst possible bullpens might also be expensive, though, and that's a lot less intuitive.
I took a tour through those thoughts over two years ago, when it seemed like a whole wave of relief prospects was hurriedly working its way to the big club. To wit:
Think about it, though: if a minor leaguer had struggled the way Bell struggled, he could get sent down and replaced with ease.  He would get sent down and/or replaced.  That's the double curse of buying veteran bullpens — the inflexibility that comes with the significant payroll obligations.

Because the value of relievers tends to fluctuate so wildly, flexibility in that part of the roster is to be prized more there than it might be for an outfield crew or a starting rotation.  Flexibility has a very real value in roster construction generally, but its value in the bullpen is significant…

…If money was absolutely no object and you could afford to keep signing expensive relievers (cutting the ones who struggled), then a bullpen made up of veterans has a much greater chance of being great than a bullpen composed mostly of young relievers.  But a bad bullpen of young guys is a much better situation than a bad bullpen of veterans.  A bad bullpen of veterans with salaries too big to waive is the worst case scenario.

This preference for a young bullpen is independent of the fact that veteran bullpens are more expensive.  The preference is solely about flexibility.
Every major league player who is not a reliever has a chance to fix something that's broken, whether it's by more work in the cage or working on something in a side session. Relievers can't do side sessions, though; they've just thrown, or they need to stay available. It's a hard reality. What if David Hernandez struggled through the 2013 season unnecessarily, and the adjustment and bounce back he made in the minors toward the end of the year was something that could have been done sooner? What if he was out of major league options, and couldn't be sent down for that purpose?
The D-backs bullpen is stacked or close to it this year, and what they lack in quality they make up for in quantity. Fronting the bullpen, however, are five pitchers who can't be optioned in Brad Ziegler, Tyler Clippard, Daniel Hudson, Randall Delgado and Josh Collmenter (as best as I can tell; Hudson's situation is especially funky, and I'm not sure on Collmenter). Andrew Chafin can be optioned, but was one of the team's best two relievers last year. Chafin is also projected to be the team's second-best reliever in 2016 — behind Silvino Bracho, who can also be optioned. That's it; that's your top seven pitchers — the team might go with eight relievers for much or most of the year, but replacing one of those seven pitchers is only likely to be an upgrade if one of them is on the disabled list.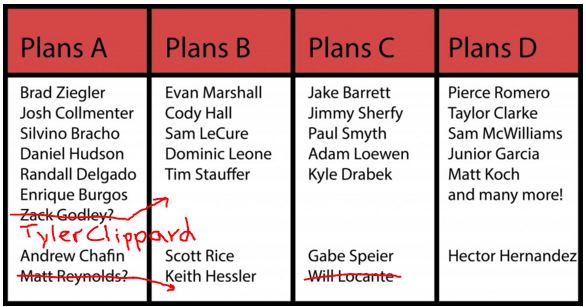 Matt Reynolds, Scott Rice, Tim Stauffer, Cody Hall, Kyle Drabek, Evan Marshall, Enrique Burgos… they're all just minor league depth now. Some "Plans B" or "Plans C" pitchers on minor league deals like Sam LeCure and Adam Loewen can be kept in the minors to start the year, but if they are called up, they clog the mechanism even more — they can't be sent back down without their permission.
One of the ways to best use a quantity-over-quality organization of relievers might be to switch guys in and out, depending on success and depending even more on whether or not a pitcher could likely benefit from some time to work out the kinks on something. Rearranging the deck chairs can be helpful — and having more and more pitchers who can't be moved out temporarily is like bolting more and more of those pitchers to the floor.
What this comes back to is the two-year nature of Clippard's deal. If he's struggling mightily in April and May, what can and should the team do? There would be every reason to think Clippard could be an asset at some point in 2016, and confidence that he would be more helpful than a replacement in 2017, too. They'll have to try to have him work it out on the fly (well, if they let him work batted balls on the fly), and hope for the best, which is often the right call with good relievers anyway. What about July, though, if the D-backs are in the thick of it and it's just not working out too well with Clippard? The trade of Aaron Hill sure made it look like the D-backs are more reluctant than most to cut bait.
Saying this whole point differently: the downside with a young reliever is what we saw with Evan Marshall in 2015, who put up a staggering -0.4 WAR in 13.1 innings before getting sent down. You can't stop the bullpen from bleeding that way, but you can stop the bleeding. What if Evan Marshall couldn't be optioned? Consider how excellent his 2014 season was. The downside with a veteran reliever can be a whole lot worse, because you can't stop any reliever from struggling, but veterans are the only pitchers you have to either use or lose.
On the whole, the Tyler Clippard signing is a good use of funds, and he does make the 2016 bullpen better on and off paper. Be happy; the team is in a better position to win a maximum number of games in 2016, and Plan A is a better plan. The number of bullpen spots that could go to optionable relievers, however, did just get smaller by a significant stretch, down from three to two. Plan A is better — it's just a fair bit less flexible.