The Inside the 'Zona 2014-2015 Offseason Plan
The Diamondbacks had the worst record in all of Major League Baseball in 2014. Fixing a team that lost a league leading 98 games last season is difficult. It's even more difficult when the team doesn't have a bunch of cash to spend in attempts to upgrade the roster. Just like last year, the Diamondbacks find themselves in a position with little leverage and few resources. Creativity is a must for the D-backs this offseason.
To think that Arizona will go from 64-win team to division winner in just one offseason is rather unrealistic. Instead, the team should take a measured approach, shedding payroll, creating roster flexibility, and acquiring future major league assets that are nearly ready for big league trials. There are a number of players who will get healthy and return to action at some point next year and they're going to need spots on the active roster. A roster with flexibility is a must for Arizona to evaluate young players while providing room for soon-to-be-healthy investments to get back to action.
The only way to free up space, both from a financial and roster standpoint, is to trade assets. Unfortunately, we're going to have to accept a pretty broad definition of the word "asset" here, as some of Arizona's "assets" could be considered toxic to some teams, the Diamondbacks included. So they'll have to be willing to eat some contract money and accept paltry, yet strategic, returns in order to pull off these deals. On the free agent front, the team should not look to be an active player. They don't need upgrades in many areas with the exception of starting pitching, and even then, the team should target a short-term deal with a pitcher who represents a high risk/high reward proposition.
We present the Inside the 'Zona 2014-2015 Offseason Plan (Ed: also, check out Episode 6 of The Pool Shot for more explanation):
Trade Aaron Hill and $8M to the Nationals for RHP Taylor Jordan
Trade Miguel Montero and $10M to the Pirates for RHP Nick Kingham and C Tony Sanchez
Trade Trevor Cahill and $6M to the White Sox for LHP Scott Snodgress
Offer RHP Brandon Morrow a one-year, $6.5M contract
Offer RHP Chad Billingsley a one-year, $5M contract with a $11M option, $250,000 buyout
Tender contracts to David Hernandez and Cliff Pennington
Sign CF A.J. Pollock to a five-year, $34M extension (with a $12M option/$1M buyout)
Trades
Aaron Hill and $8M to Nationals for RHP Taylor Jordan
Deciding to trade Aaron Hill is not a simple matter; he's been a very productive player at times, is a good bet to provide above-average offense at an up-the-middle position next year, and has a bit of flexibility the D-backs could find very useful. We like him as part of a four-man, three-position time share with Didi Gregorius getting as many starts against RHP as possible — and as few against LHP as possible. Hill's willingness and apparent ability to play a little third base facilitates that, and while Jake Lamb hasn't shown a platoon split in the minors, it doesn't hurt that Hill can cover if Lamb begins to struggle against lefties. We've settled on trading Hill largely because of financial reasons; the team is already $7M or so over its target budget for 2015, and it seems to us that the D-backs will lose out on other promising opportunities if they do not move some payroll.
Actually trading Hill is not a simple matter, either. The Yankees could need a second baseman, but the other teams with obvious holes (Marlins, Orioles, Nationals, Blue Jays, Braves) are supposedly committed to rising or recent prospects. We like the Nationals as a target for Hill; manager Matt Williams is likely to remember Hill at his best, and the Nationals can probably fit Hill into their budget next year, although they face a budget crunch the year after. More importantly, the Nationals have shown dissatisfaction in the past with default second baseman Danny Espinosa, who is taking over for Anthony Rendon, who is taking over for Ryan Zimmerman, who is taking over for free agent Adam LaRoche.
The Nationals also seem like a good match because they may have pitching to trade. With Stephen Strasburg, Jordan Zimmermann, Gio Gonzalez and Doug Fister locking up rotation spots (unless one is traded), recent revelation Tanner Roark may slide into the fifth spot. That could make it difficult for the Nationals to use 26 year old Blake Treinen or 25 year old Taylor Jordan in their rotation next year, and with Ross Detwiler in the bullpen, they'll still have some depth if they move Treinen or Jordan. We would suggest that the D-backs go after Treinen, with Jordan the fall back. Both pitchers are old to be considered "prospects," and while they both have some upside, they need an actual chance to try to cut it at the major league level. Treinen's floor might be helpful reliever, lessening the risk even more. Jordan, however, does not have knockout stuff (5.35 K/9 in 77.1 MLB innings) and is projected by Steamer as a fringe average starter (4.03 FIP). We believe he is still promising enough to push Trevor Cahill out of the picture completely, or Josh Collmenter to the bullpen. If Jordan is still too much for the Nationals for just Hill, we'd support slightly increasing the cash considerations, or the inclusion of a low-level D-backs prospect.
Miguel Montero and $10M to the Pirates for RHP Nick Kingham and C Tony Sanchez
Saying the Diamondbacks are without trade chips is inaccurate. Plenty of teams would line up to acquire Paul Goldschmidt or Archie Bradley, but they're obviously part of Arizona's future and not up for discussion. Miguel Montero, on the other hand, is definitely a valuable trade asset and the best player the D-backs can and should deal this winter.
Playing right into the Diamondbacks' hands is the fact that there are virtually no good catchers available on the market for teams right now. The best available catcher, Russell Martin, signed with the Blue Jays last week, and behind him, Montero is easily the next best available option. A handful of clubs could use an upgrade behind the dish, two coming from the NL Central. The Cubs were rumored to narrowly miss out on Martin, and there's been some chatter about them being a potential trade partner for Arizona in exchange for Montero. But I think it's Martin's recent team which is the best fit.
The Pirates lost Martin to free agency and somewhat filled the hole by acquiring Francisco Cervelli from the Yankees as a good defender who doesn't hit much. With that move already complete, the Pirates were still willing to bring Martin back, and although they missed out on him, they match up with the Diamondbacks far better than the Cubs do. Arizona needs pitching and the Cubs don't have much of it. Arizona would also do well to bring back a catcher to take the load off of Tuffy Gosewisch, who should remain a backup.
The Pirates, on the other hand, have plenty of pitching and catching depth. They may not be comfortable taking on all of Montero's $40 million in remaining salary. A deal could nonetheless get done around right-handed pitcher Nick Kingham and catcher Tony Sanchez, with Arizona eating $10 million. Kingham slots right behind the Big Three D-backs pitchers in the minors (with an ETA in 2016) and Sanchez is a major league ready catcher with limited big league experience who can help fill Montero's void right now. He's good enough to warrant a serious audition in the majors but isn't someone the organization has to plan around. Kingham has very real upside and Sanchez is a lottery ticket with a chance to pay off. This is what Arizona needs: payroll flexibility and a younger roster built to will win in the near future.
Trevor Cahill and $6M to the White Sox for LHP Scott Snodgress
Trevor Cahill is weighing this team down and taking up a valuable roster spot. His salary isn't helping things and potentially expires at the end of the year. He's owed $12 million in 2015, then has a 2016 team option for $13 million with a $300,000 buyout. Unless he turns a major corner, that option is getting turned down, meaning that whomever is going to pay Trevor Cahill in 2015 is likely to owe him $12.3 million.
But that's just the thing: whomever is paying him is likely to be two teams, and in this scenario, that's exactly the case. The D-backs would do well to move him but will have to eat some salary to do so. While there are several teams that could be a fit for Cahill, including the Royals, A's, Astros, Rangers and others, in the end, the Diamondbacks should deal him and $6 million to the Chicago White Sox.
Chicago is a perfect fit for Cahill as he was below average as a starter but surprisingly effective as a reliever. The pitching bar is set pretty low in Chicago aside from Chris Sale and Jose Quintana, so Cahill can become the team's fourth starter or jump to the bullpen where he'd immediately be one of their best relievers. And, should he improve, the rebuilding White Sox could choose to exercise his option and keep him around. The White Sox don't have a lot to send back to the Diamondbacks in the deal, but that's fine as Arizona is simply interested in clearing the salary and the roster spot. In exchange for Cahill, the White Sox send SP/RP Scott Snodgress to Arizona where he'll be used as bullpen arm and can begin the season at Triple-A Reno. In this deal, the Diamondbacks would clear salary, free a roster spot and give them a left-handed bullpen asset to add to their impressive collection of young, right-handed relief arms.
Free Agent Offers
$6.5M, 1-year offer to RHP Brandon Morrow
Morrow has never really gathered any momentum as a pitcher. After the Mariners used him as a reliever, he fared very well for a time as a starter with the Blue Jays — but he's pitched just 87.2 innings in the last two years. Morrow may be on the lookout for a longer deal, especially if he has lingering worries about injury. And unfortunately, given Chase Field and the other pitchers' recent lack of success with the D-backs, he may not be willing to sign with the team on a one-year deal to reestablish his value. But he might. And if he does, the D-backs should be there with an offer, no greater than $6.5M. Morrow fits the D-backs extremely well as a third-tier pitching target, as we explored a few weeks ago. We would much rather add a pitcher who comes with a primary risk of injury, rather than a primary risk of not pitching well. With reinforcements like Patrick Corbin, Daniel Hudson and Archie Bradley strong possibilities by midseason, the D-backs can handle a high-risk option like Morrow.
$5M, 1-year offer with option to RHP Chad Billingsley
We like Billingsley, if not quite as much as GM Dave Stewart appears to love him. Stewart has been saying all the right things about Billingsley's likely readiness for 2015. It's hard to distill the truth from Stewart's comments; as we examined a month ago, Stew is in a difficult position. As Billingsley's agent up until a couple of months ago, Stewart will be thought of as knowing a lot about Billingsley. Unfortunately, that means he will harm his old client if he does not appear interested in signing him; he fits the team's needs too well for lack of interest to be blamed on lack of fit. And on the flip side, Stewart could be exposed to a lot of criticism if he is perceived as signing Billingsley for too high a salary.
Nonetheless, Billingsley fits the D-backs right now in exactly the way that Morrow does. Reinforcements are on the way, and there are decent backup options, even for April. The pitching baseline is mediocre, but not terrible; therefore if Billingsley steps in and pitches like an average or above-average pitcher, he'll be helping in a big way; if he gets signed and doesn't pitch to those levels, the D-backs will not be totally lost.
An option could help the deal work for both sides. If Billingsley succeeds in rebuilding his value with a solid year, the D-backs will have done him a pretty big favor, and it seems to us that it would be highly likely that Dave Stewart signs him to a new deal. But that new deal would carry a ton of risk, even after one good, healthy season. To prevent that, we'd love to see Billingsley signed to a contract with a relatively high salary (perhaps $11M) and a very low buyout (perhaps $250k). The high salary should make the option work for Billingsley; the low buyout would make the option a good buy for the club. If he's worth $11M next season, this move will look fantastic, but not as though the club had taken advantage of the pitcher.
Tender Decisions
The D-backs are faced with only two tender decisions of consequence: whether to tender contracts to David Hernandez and Cliff Pennington.
We like both players. David Hernandez has a history of dominating opponents, and the only blemishes on that record are a season missed to Tommy John surgery, from which he should be recovered in or around April 2015, and a mediocre 2013. Even that underwhelming season can be explained away, however; as we've taken frequent note of here, it's difficult or impossible for a reliever to get "fixed" during a season, because there's no opportunity to throw side sessions or take extra batting practice like there is for other players. But once Hernandez got that opportunity — in a demotion to Triple A Reno that August — he returned as dominant as ever. The decision is far from simple, and there are reasons to not tender Hernandez a contract. All in all, however, we like making Hernandez a $2M offer. If the team is open to getting truly creative, it might try giving itself a reasonable option for 2016, the first season for which Hernandez would be a free agent.
As alluded to above and explained below, we like a four-man, three-position approach to second, third, and shortstop. One of the benefits of that approach is that it limits plate appearances for true backups. That poses something of a problem for Cliff Pennington.
We have suggested that the team trade Aaron Hill, however, and in that event, Pennington becomes extremely useful again. It would fall squarely on Pennington's shoulders to platoon with Didi Gregorius — and that would be an excellent platoon. That is reason enough to tender Pennington a contract and expect to pay him around $3.3M. Having Pennington in the fold will also allow the D-backs to explore trading Hill for as long as they think is appropriate in this offseason. By spring, teams will have a need for someone of Pennington's skills, and for reasonable dollars on a limited risk one year deal, teams may even be willing to trade something of value to get him.
Extensions
Sign CF A.J. Pollock to a 5-year, $34M contract extension with a $12M option ($1M buyout)
Outside of Paul Goldschmidt, the Diamondbacks only have one real offensive star, and that's A.J. Pollock. We explored this idea in full a few weeks back, but the Diamondbacks should sign Pollock to an extension this offseason, one that keeps him under team control through his age 31 season, with an option to keep him under control for an additional year should the team wish to exercise it. As far as smart baseball is concerned, locking up young talent should be a top priority for every major league team, especially those with significant payroll restraints. Pollock and the Diamondbacks certainly fall into that category.
A five-year, $34 million extension with an additional option year ($12 million option, $1 million buyout) should appease both sides. It guarantees Pollock $7 million per season for five years, which is essentially the cost of a one-win player to the Diamondbacks. Instead, Pollock should remain closer to a three or four win player going forward, which represents a steal for Arizona but provides Pollock with his first fortune and life-long financial security. Pollock could also be persuaded to agree because the length of the deal will still allow him to hit the open market while still in his prime, before his decline phase sets in hard.
Roster Alignment
---
Rotation
With Trevor Cahill moving on, Patrick Corbin and Bronson Arroyo still recovering from Tommy John surgeries and top prospect Archie Bradley opening 2015 in AAA Reno, the Diamondbacks rotation is unlikely to be a strength at the beginning of the season. But, three remaining D-backs above should all see the rotation at some point in time, creating a sort of desert-themed game of musical chairs in the big league rotation. This isn't entirely unlike what was seen last season, although the results should be better, if only by a small margin.
Wade Miley, Jeremy Hellickson and Josh Collmenter should occupy the first three slots in the rotation on Opening Day, joined by either Brandon Morrow or Chad Billingsley, if either pitcher accepts an offer from the team. With or without the addition of Morrow or Billingsley, that group is very clearly missing an "ace," but there are bound to be a bunch of solid, dependable outings. Behind them, Chase Anderson should be the next option to round out the rotation, with Taylor Jordan the man who is in or out based on Morrow/Billingsley and his spring training performance. Vidal Nuno is either the 6th starter or the 7th.
Patrick Corbin should rejoin the Diamondbacks by some point in June, perhaps before. Bronson Arroyo should be available in July, and given the opportunity to rejoin the rotation if a spot is available. Archie Bradley is a complete and total wild card, but his performance will dictate his role in 2015. Daniel Hudson should start the year in relief, but should be given an opportunity to rejoin the rotation in July as long as there is an opportunity — even ahead of Arroyo, if there is just one spot available. Even Aaron Blair, who has made quick minor league progress, could earn a shot late in the season. Did we mention musical chairs?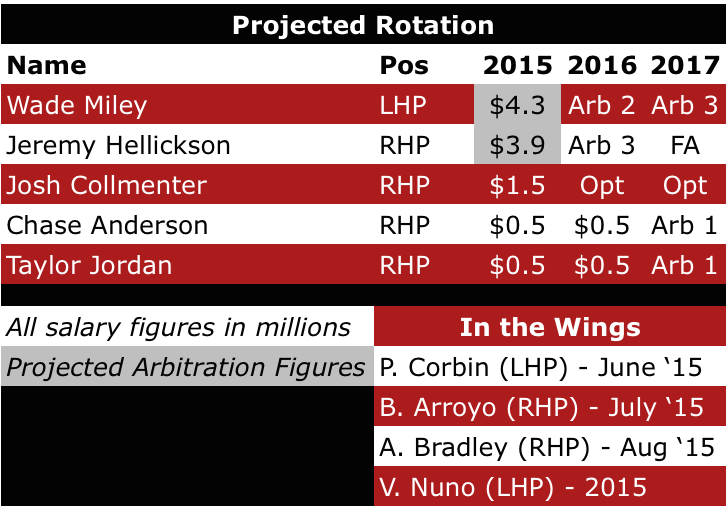 ---
Bullpen
The depth that the D-backs have accumulated in relievers is almost embarrassing, and it would not be surprising if other teams targeted some of this talent in trade during the offseason. A few spots seem set: Addison Reed will close, Brad Ziegler will set up if he returns successfully from microfracture surgery in his knee, Oliver Perez will continue in a similar role, and Randall Delgado (who is out of options) will stick as the long reliever.
Assuming the club carries 12 pitchers, that only leaves spots for three more relievers. And the list of candidates is long: Evan Marshall, Daniel Hudson, Matt Reynolds, Eury de la Rosa, David Hernandez, Matt Stites, Andrew Chafin, and three other relievers put on the 40-man roster within the last two weeks: Kevin Munson, Enrique Burgos, and Will Locante. The presence of the latter three on the 40-man make them the likeliest callups from the minors, but the team also has Jake Barrett, Kaleb Fleck and Jimmie Sherfy waiting in the wings as potential average-or-better relievers.
We think Marshall, Reynolds, and Daniel Hudson are the best bets for the final three spots in the bullpen, with David Hernandez almost assured a spot once fully rehabbed. Depending on his control in spring training, Matt Stites might be the next candidate, although he can still be put on optional assignment. Eury de la Rosa will also wait at Triple-A Reno with Munson and Burgos, forming a quartet of candidates to be shuttled in and out of Phoenix as roster rules permit. By midseason, injuries will almost certainly prompt promotions, although Barrett, Fleck and Sherfy are likely to wait longer than they'd like. The possible departure of Daniel Hudson to the rotation by midseason (a plan we suggest and fully support) could also open another opportunity.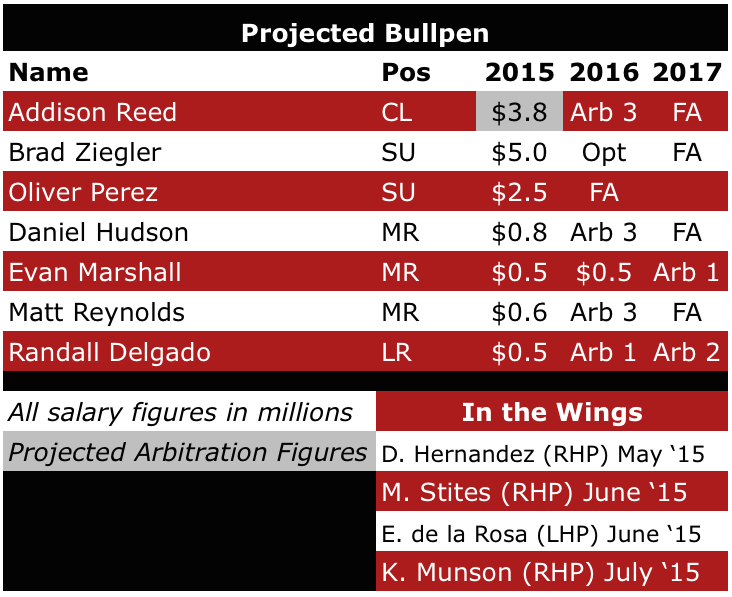 ---
Infield
Paul Goldschmidt is the team's first baseman, but it's Mark Trumbo who should be his backup at first base. Whatever Trumbo loses in "confidence" by not playing in right field for each and every start will be made up by the fact that on days he plays first base, he will be nowhere near the black hole he seems likely to be in right. If Miguel Montero is not traded, that's another spot locked down; if he is traded, then the team would do well to re-install Bobby Wilson behind the major league plate, sharing time with the surprisingly useful Tuffy Gosewisch. Should the trade to the Pirates work out, Tony Sanchez will soon seize a starting role anyway.
The rest of the infield is the real puzzle, but we believed we've solved it with an unconventional time share. the 4-man, 3-position share is explained at length in this post, but briefly: Didi Gregorius can't hit left-handed pitching. At all. He needs a platoon partner, and as noted above, if Hill is traded, Cliff Pennington is the perfect small half of that platoon. If Hill is not traded, then Gregorius will essentially platoon in for slightly-more-than-rest days for Chris Owings (playing short and second), Aaron Hill (playing second and occasionally third), and Jake Lamb (third). Owings, Hill, and Lamb would each start about 80% of games, with Gregorius starting in just 60% of games (against RHP).
We believe Jake Lamb deserves a chance to establish himself as a major league starter with at least a full season at third base. Although he played ever-so-briefly at the Triple-A level, Lamb has absolutely spanked the ball everywhere he has played. The power may come, but even if it does not, squaring the ball up both vertically and horizontally is the hardest thing in professional sports to do — and Lamb's ridiculously high batting averages on balls in play in the minors suggest that he has an uncommon ability to hit line drives. It may take time, but the D-backs need not keep looking at their watch; seeing if Lamb will develop will be the best use of third base starts possible until Brandon Drury is ready to play in the majors — at which point, it may be time to make a new decision.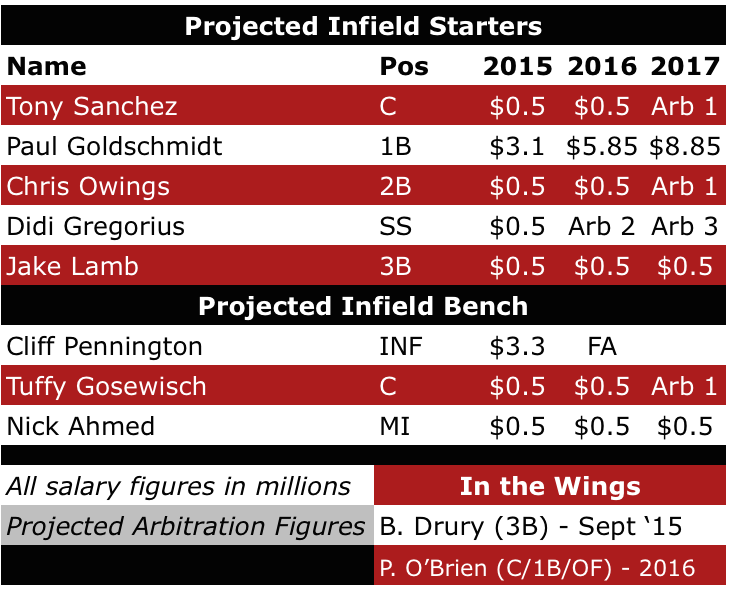 ---
Outfield
The outfield appears pretty much set, at least to start the major league season. Center field belongs to A.J. Pollock so long as he's healthy and capable. He's proven to be league average as a hitter at worst with a great chance to be well above offensively. The defense is better than average, too; coupled with the production at the plate, that makes Pollock one of Arizona's best assets. Behind him, Ender Inciarte can certainly man center but is lighter with the bat. Still, he's a more-than-viable option there, although he may not turn heads the way Action Jackson does.
Things get hazy in the corners as they have essentially four guys for two spots. According to GM Dave Stewart, Mark Trumbo will take his abhorrent defense to right field to "build confidence" and David Peralta and Ender Inciarte will split time in left. Chip Hale would have to decide between good offense and okay defense (Peralta) or okay offense and good defense (Inciarte). This is a very poor alignment for multiple reasons, not least that as left-handed hitters, Peralta and Inciarte cannot be platooned effectively. If the Diamondbacks are watching closely and putting new Analytics Director Dr. Ed Lewis to work, this experiment shouldn't last all that long.
We strongly believe in an alternative: pairing Trumbo and Inciarte in left field to form a lefty-righty platoon with the added benefit of defensive flexibility. Peralta should get the bulk of playing time in right with Cody Ross spelling him on occasion and helping to form another lefty-righty platoon to maximize offense. These two platoons are very viable and no one here is making so much money that they can't play part time (except maybe Ross who's physically limited). For Arizona to maximize the number of wins they collect, they should maximize the favorable opportunities for their personnel.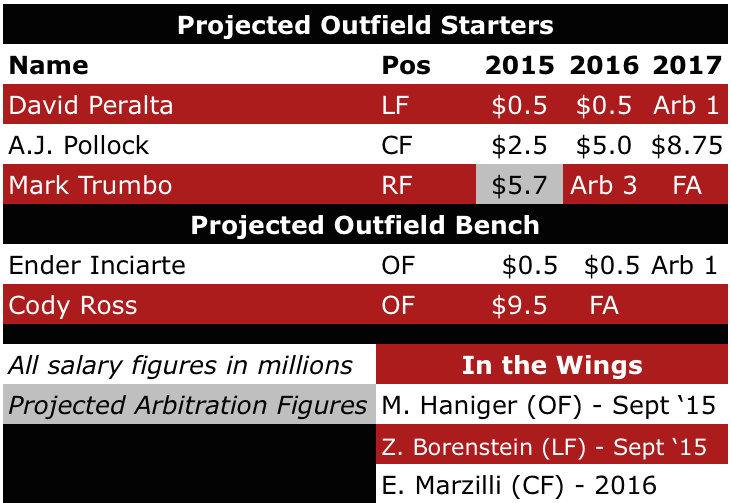 Conclusion
The Diamondbacks could surprise in 2015. Most positions on the roster already have starters firmly entrenched, and in many respects that is a good thing. But the club will also have to hold the course in 2015, without resort to acquisitions from outside the organization. If young players like Jake Lamb and Chase Anderson perform toward the high end of their possible outcomes, the D-backs will do very well. But because Lamb, Anderson and others have nowhere to go if they struggle, and because they need major league time for the D-backs to discover what kind of players they truly are, if things get bad they could get really bad.
It still will be a season of change, especially with waves of pitching returning or being promoted for the first time during the course of the year. If all goes right, the club will get almost continuous injections of fresh talent and solid contributions.
The transactions suggested above fit with that outlook on 2015. In many ways, they enable that outlook; it may be that only by trading Hill can the team see what it has in Gregorius, Owings and Lamb. It may be that a changing of the guard at catcher may mean new and less rigid pitching plans, with increased production from the pitching staff to match. We realize that most of the transactions suggested above may be easier said than done; still, we'd like for the team to be as proactive as possible this winter, as in considering the installment of a humidor and committing to an aggressive spending plan for international amateurs. In the coming weeks, we will address some auxiliary plans we considered in this plan's formulation. More than anything else, however, if the club adheres to the spirit of the suggestions above, we have nothing but optimism about this team going forward.